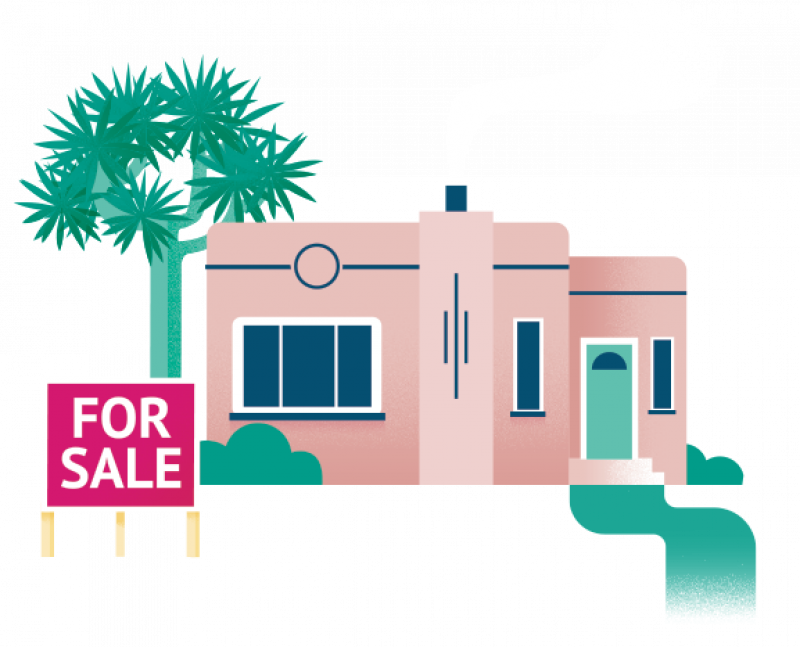 When property owners decide to sell, they're often focused on the potential money coming in rather than what's going out. However, there are lots of hidden costs associated with selling a property. Between last-minute fixes, advertising costs and real estate agent fees, the cost of getting your house on the market can quickly add up. To help get you prepared, we've put together a list of costs you should consider when you decide to sell your home.
1. Advertising costs
Marketing your property to potential buyers is important. You know its best features, but buyers will need to have their imagination captured. To get as much interest in your home as possible, it's wise to have a targeted marketing plan, featuring professional photography.
Professional photos
Good real estate photography can create a real buzz, attracting interested buyers to your property. Real estate agencies will often have professional photographers who work for them. The cost of photography is usually outlined in your agency agreement and marketing plan. Agencies generally present a few different marketing plans to sellers, leaving you to decide which approach best suits your goals and your budget.
Ownership of the photographs taken by the agency will usually stay with the agency so if you wish to own the pictures taken, you should speak to the agency about this and include a clause that acknowledges this in your agency agreement.
If you're selling privately, it's wise to budget for professional photography. Search online and seek out recommendations for well-regarded photographers with real estate photography portfolios. Make sure you get photos of every room, the outdoor area and any views or features that will be appealing to buyers. Choosing a day with decent light to showcase your property is also a good idea.
2. Listing fees
If you choose to sell your home through a real estate agent, there are costs involved. You pay the agent a commission fee if they sell your property. The amount of commission is generally a percentage of the sale price.
Agents usually charge an administration fee of around $500, plus commission based on a percentage of the selling price. Usually, the commission is tiered. For example, you might be charged 3% of the first $400,000 of the sale price plus 2% of the balance of the sale price. However, it does vary and is usually open to negotiation. Details of the commission and how it is calculated can be found in the agency agreement.
The fee is generally paid from the deposit the buyer pays your agent when the sale and purchase agreement is signed, and the remainder goes to you. The deposit is usually about 10% of the total price the buyer is offering and is held in a trust account. If the buyer's deposit does not cover the amount of the commission, you will need to pay the difference to the agency.
3. Last-minute building work
Little fixes
Setting aside a budget for little fixes that can be done before an open home to make the house more attractive are worthwhile considering. Freshening the paintwork, fixing anything that's broken, and getting rid of scratches and dents are things you should turn your attention to. A property valuer or real estate agent may be able to help you decide which fixes are likely to increase the value of the property.
LIM report
If you choose to offer a Land Information Memorandum (LIM) to buyers, it's worth bearing in mind that the costs to get one vary from council to council but are generally a few hundred dollars.
A LIM report provides a summary of the current property information held by the different departments at council on the day the LIM is produced.
If the LIM report uncovers work that needs to be done, you should ask yourself whether you have the resources to complete the work or whether you want to sell the property as-is.
Defective titles
If you have a cross-lease title, from time to time the flats plan that accompanies the title can be defective. This will usually happen when alterations to your property's footprint have not been included in the flats plan. Fixing this issue can be expensive and it is worth getting a copy of your title and seeking legal advice before listing your property if you think your flats plan might be out of date.
Conditions
You may have agreed to conditions as part of the sale and purchase agreement. Some of the conditions may mean that repairs need to be carried out before settlement.
Building inspection reports
Some sellers get a property inspection done, as well as a LIM report, to reassure buyers and make the sale process run more smoothly. As with a LIM report, a property inspection may reveal work that needs to be done, so in addition to paying for an inspection, you may need to cover the cost of repairs.
4. Home staging
First impressions matter when selling a property, so before you get professional photography done, consider the state of your home and what needs to be done to present it at its best.
Home staging can be carried out by you and can be as simple as decluttering, rearranging the layout of your furniture, or removing some items to create more space. Displaying on-trend cushions, throws, wall prints, and fresh flowers can make your property more inviting to buyers. While it's not as expensive as carrying out building work, the cost of freshening up your home can add up.
If you are decluttering as part of your home staging but don't wish to get rid of your treasures, you might need to hire a storage unit while your property is being marketed.
For unoccupied properties, or to save you forking out for brand new furniture, engaging a professional home staging business may be something you wish to consider. Do your research and gather quotes from several well-regarded home staging companies.
5. Cleaning costs
Before you begin to think about home staging, you'll want your property to be as clean as possible. Some buyers may include professional cleaning as a condition on their sales agreement.
You will want your house to be at its best for buyers at viewings and open homes, and at settlement. You may wish to carry out a deep clean yourself but employing a cleaner or cleaning company to get your house sparkling may be worth considering. Spend some time researching cleaners, gathering quotes and making sure that you clearly explain what needs to be done. As you go about your everyday cleaning routine, it's easy to overlook high dusting and making sure skirting boards are free of grime.
6. Moving costs
If the property you are selling is your current home, you may be looking to hire a moving company to do the heavy lifting and shift your possessions to your new home. Asking around, reading online reviews and comparing quotes is a good way to help you work out which option is best for you.
Moving services
Whenever you move into a new place, there are a few costs which are often overlooked, such as charges for setting up your internet connection or landline, power and gas. It can often be more straightforward to stay with your existing supplier, but it's worth contacting them in advance to ask what the set-up costs will be.
7. Lawyers or conveyancers fees
We recommend you find a lawyer or conveyancer to help you through the selling process. Lawyers and registered conveyancers can carry out property transactions (also referred to as 'conveyancing'). Choose a lawyer or a conveyancer based on your budget and the complexity of the sale transaction.
8. Auctioneer services
If you're planning to sell your house at auction, you should be aware that there may be fees to pay. Talk to your agent about whether the service is free or if there is an extra charge. A strong marketing plan is important when selling via auction – you want to make sure there are enough genuine bidders in the room on auction day.
9. Body corporate fees
If you're selling a property that is part of a body corporate, make sure you've set aside enough money to pay for levies, repair costs and the long-term maintenance fund until you exchange.
10. Rates and insurance
It's important to keep your home insured until settlement is reached. Once you have accepted an offer on your property, it's wise to contact your insurer to let them know your plans. It's possible you may need to bridge your insurance across two properties if there is a gap between the settlement date on your current home and your new home. Your insurer should be able to answer any questions you may have.
It's good practice to make sure your property's rates payments and any other outstanding utility charges are up to date before you settle. You don't want to leave the new owners with outstanding payments when they move in.
Before you list your house for sale, it's important that you take a moment to weigh up all the potential costs involved. Having a realistic mindset will mean there's less chance of any nasty surprises.
Tap/click a star to give a rating: