Buying property in New Zealand
When you move to a new country, purchasing a property can help you feel settled. This page outlines the key things you will need to know when buying a home in New Zealand.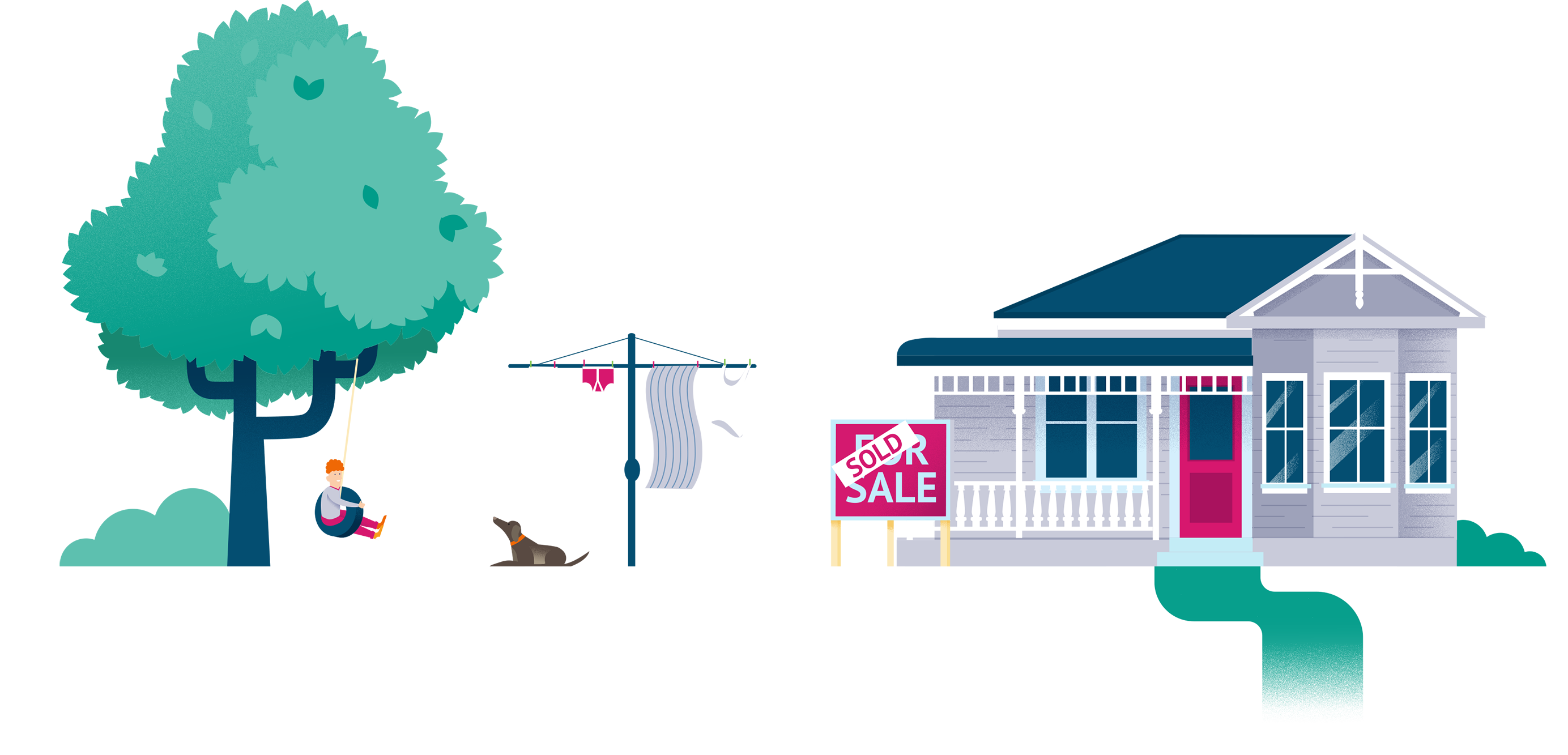 Who can buy property in New Zealand?
Generally, only residents and citizens can buy residential property in New Zealand, but there are some exceptions.
Find out if you are eligible to buy property in New Zealand on the New Zealand Now(external link) website.
If you are immigrating to New Zealand you may also want to consider the living costs as they may be quite different from your home country. New Zealand Now has a helpful cost of living calculator(external link) to help you figure out what your income and expenses may be.
The New Zealand property-buying process
Buying a property can be complicated, especially when you're not familiar with the process and haven't bought in New Zealand before.
In New Zealand, the process for buying a property depends on which method of sale is used. We have created a buyer journey guide that explains the process from thinking of buying to making an offer through to settlement day.
Download the buyer journey guide here [PDF, 5.1 MB].
Find out more about buying by auction here.
Find out more about buying by negotiation here.
Find out more about buying by deadline here.
Find out more about buying by tender here.
To understand New Zealand real estate terms, click here.
When your offer is accepted, you must buy the property
When you make an offer on a property in New Zealand, it can be conditional or unconditional.
An unconditional offer means you do not require any conditions to be met before buying the property.
A conditional offer means there are conditions that must be met before you agree to buy the property (for example, having your finance approved or a property inspection). When the conditions have been met, the sale becomes unconditional.
Learn more about specific conditions you can include in your offer here.
Important: When the seller accepts your offer, they will sign the sale and purchase agreement. At this point, the offer is legally binding and could be subject to legal action from the seller if you don't buy the property. You are likely to pay the purchase deposit at this stage or when the agreement becomes unconditional, depending on what you and the seller have agreed.
Types of land ownership and housing styles
The four main types of land ownership in New Zealand are:
freehold
leasehold
unit title
cross-lease.
Each type of ownership has different requirements and restrictions.
Find out more about the different types of land ownership here.
Housing styles
There are many different types of homes in New Zealand ranging from older villa style homes to new homes. Each style has its different characteristics and challenges you should be aware of.
Learn more about the different housing styles and property options here.
When you find a place you're interested in buying, use Property Checker to generate a report that highlights areas we recommend you research further.
New Zealand building issues to be aware of
Below are some of the issues you may find when you are researching properties.
Heating and ventilation
The climate in New Zealand varies. Some areas have high rainfall, and homes that don't get much sun can be damp.
Most houses do not have central heating, and many rely on electric heat pumps or gas heaters to warm the home. Older homes may have less insulation than modern homes, and windows that are not double glazed so they can get chilly in the winter.
Heating and ventilation are important because mould and mildew can be an issue, especially if the home isn't ventilated or aired regularly (for example, opening the windows each day). Mould usually appears as green, grey, brown, black, white or red (pinkish) growth or stains on walls, ceilings and other surfaces. It appears in speckled patches or streaks that become larger as it grows.
Small amounts of mould are common in most houses in New Zealand and usually don't cause any health concerns. However, when mould is left to grow in large quantities, it can cause serious health problems.
Important: New Zealand is in the southern hemisphere so rooms that face north get the most sun and are likely to be warmer and drier. Homes in hilly towns and cities may not get much winter sun if they are on the south side of a hill.
Leaky buildings
New Zealand has an issue with buildings that have a high risk of leaking. These were mostly built between the late 1980s and the mid-2000s, using plaster-style monolithic cladding systems.
The exterior walls typically have an unbroken or smooth appearance. A leaky building is one where moisture gets between the outside of the house (the cladding) and the inside walls.
Find out more about leaky buildings here.
Problem building materials
Some New Zealand building materials have not been reliable. If you're interested in a property, make sure to look out for Dux Quest piping, Weatherside cladding and asbestos.
If the property you want to purchase has been built with materials that are known to be problematic, it's a good idea to get a property inspection from a qualified property inspector who can help you to identify any issues.
Find out more about problem building materials here.
Find out more about researching a property here.
Download our checklist for researching the property here [PDF, 415 KB] [PNG, ] [PNG, 93 KB].
New Zealand's natural hazards
New Zealand has earthquakes, volcanic eruptions, floods and landslides, which can cause issues with properties.
If you're considering buying a home in an area that has been affected by a natural event, you may want to do some extra research before putting in an offer. Before you buy a property, find out if natural events could have an impact or have had an impact in the past.
Hazards to consider:
landslips
flooding
fire
earthquakes
tsunamis
volcanic eruptions
hydrothermal activity such as hydrothermal eruptions, ground subsidence and gas emissions.
Local councils should have information on any hazards that relate to the property you are looking at. Some of this information may be available free of charge, or you can order a land information memorandum (LIM) report.
Read more about LIMs here.
If you're interested in purchasing a home in the Canterbury region, it's very important to pay extra attention to aspects of the home that may have outstanding damage from the Canterbury earthquakes. This can take years to appear but is a widespread issue in the Canterbury region. Learn more about buying a property in Canterbury on the Earthquake Commission's (EQC)(external link) website.
Read more about the impact of natural hazards and buying in an area that has had an earthquake here.
What you can expect from a real estate agent
Most property transactions (sales) in New Zealand involve a real estate agent.
Important: Unless the real estate agent is working as a buyer's agent, they are working for the seller. The seller pays the real estate agent a fee (commission) when the property is sold.
Under New Zealand law, real estate agents must:
Read more about what a buyer's agent can do for you here.
REA has a public register of all licensed real estate agents
The Real Estate Authority (REA)(external link) regulates real estate agents and protects people who are buying and selling property.
REA has an online public register where you can read about an agent, check that they hold a current licence and find out if they have had any complaints upheld against them in the last 3 years.
The Public Register(external link)
If you have a question about a real estate transaction or about the behaviour of an agent or agency, you can contact REA here(external link).
Professionals who can support you through the process
It's a good idea to have the right people to support you through the buying process:
A lawyer or conveyancer to review all the documents.
A qualified property inspector to tell you about the condition of the property.
A bank, other lenders or mortgage broker if you need a loan.
A valuer if you want to know the value of the property.
You can ask the agent or seller (if it is a private sale) about anything you want to know about the property. They may not know everything, so you should do your own research.
The agent must have evidence to back up any claims they make about the property. For example, if the advertisement says the roof was replaced 5 years ago, you can ask to see documents that prove this.
Find out more about building a support team here.
Was this information helpful?