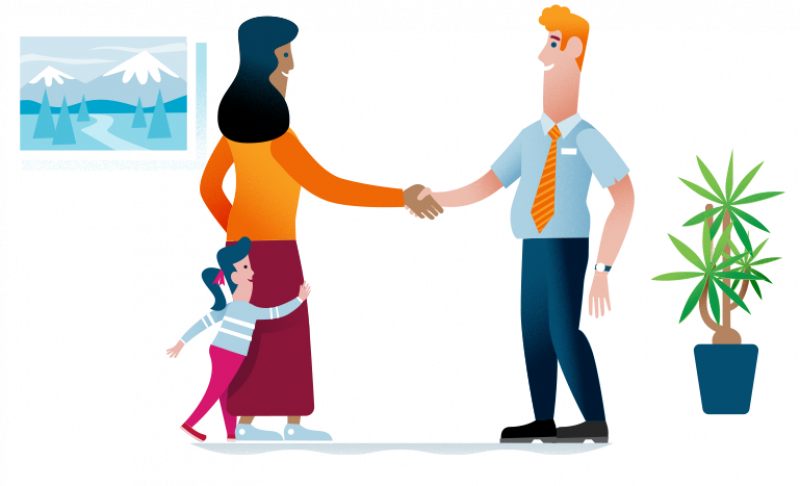 It's a fact of life that most people experience changes in their lifestyle, family circumstances or work situations that will make them want – or need – to move on. Whatever your reasons, it's important to take the time to think about what you want to achieve from the sale before you start the process of selling your house.

To help you take your first steps to sell your house, read up on the key things to consider before you put your house on the market.
7 questions to ask yourself before selling your property
To get you thinking about your selling journey, consider whether you know the answers to the questions below and whether there are any you may need to spend more time on before you start the process.
Do you know the current market value of your property?
Will you sell or buy first?
Have you got everyone you need on your support team?
Will you use a real estate agent or sell privately?
What costs are involved with selling?
What will you need to organise to hold an open home?
Is there anything you need to disclose to potential buyers?
Determine the value of your house
What you want to achieve from the sale of your house may be determined by how much you could get for it. If you're finding it hard to be objective about selling your home, it can be helpful to look at it as an investment that you want to get the best possible return from.
A good way to start the process when you're planning to sell(external link) is to get an idea of your property's current market value. You can do this by:
using online tools
paying for a registered valuation
getting a current market appraisal from a licensed real estate agent.
At this stage, you might want to consider whether there are any changes you can make to increase your property's value, like cleaning the exterior of the house or fixing a broken fence. Think carefully about undertaking any major renovations – you may not get a good return on your money if you do decide to sell soon afterwards.
A great way to assess whether you think there would be interest in your home is to think back to when you first bought it.
Were a lot of people interested or was it on the market for a long time?
What was the thing that you liked most – or least – when you first saw it?
Thinking about your first impressions could give you an idea of what to focus on as you get ready to sell.
Decide whether to buy or sell first
If you're selling your first home, the likelihood is that you're looking to buy another property to move in to, which raises an important question – which one should you do first?(external link)
Both have their pros and cons. Buying first means you will likely end up paying double for things like bills, rates and insurance but gives you the luxury of time to find your next house. Selling first might be easier on your wallet but can put pressure on you to quickly find a property to buy in time for settlement day, even if it's not quite the right one. You'll need to consider which scenario you're most comfortable with and ensure you're talking to a knowledgeable team of experts to help you reach the right decision.
Build a support team of professionals
While friends and family can be good sounding boards, you can't beat the advice and guidance you'll get from trained, experienced professionals. Depending on your needs and the type of property you're selling, your support team(external link) is likely to include:
a lawyer or conveyancer
possibly a valuer
an accountant, if you have used the property for business purposes
an insurer or lender
a licensed real estate agent.
If you're a first-time home seller, much like buying a house, it's a good idea to surround yourself with professionals who can support you before you set out to sell. Selling can be a fast-moving process, and it always pays to be prepared and work with people who will protect your best interests.
Find a licensed real estate agent
More than 90% of residential properties in New Zealand are sold by licensed real estate agents. Agents work for the seller in return for a commission that's usually based on a percentage of the sale price. The Real Estate Authority has a public register of licensed real estate agents(external link) – you can check that the person you are dealing with has an active licence.
If you do decide to sell with an agent, it's important to choose your agent well(external link) – remember that you are trusting them with what's likely to be your biggest financial asset. Ask around for recommendations in your local area and feel free to interview a few before you make your final decision. You could even attend open homes that agents are running in your area to find out how they manage the viewing and whether they follow up afterwards.
Don't forget that you can negotiate with the agent about the costs and the range of services they will provide you – talk to experienced friends or family or your lawyer if you're not sure how to do this. You generally pay for what you get – you just need to decide what you want.
Once you have decided which agent to sell your house with, you'll be asked to sign an agency agreement(external link). Before signing, make sure you have fully read and understood what you are agreeing to and ask your lawyer to also check it.
Estimate the costs involved with selling your property
Some people rush into selling a property without thinking what costs are involved because they're dazzled by the thought of a nice big payment at the end. Talk to your bank or lender about what to expect.
You may need to spend money on preparing the physical property for sale(external link) as well as paying legal fees, marketing and moving expenses.
Prepare your open home checklist
An open home is an ideal way to show off your home and display it at its best for potential buyers. Depending on what you agreed to as part of your agency agreement, your agent will likely run your open home for you, but you will still be required to prepare the house on the day. This could include anything from general cleaning to fixing a broken fence. A handy tip is to use an open home checklist(external link) designed for buyers – that way you'll be able to ensure you're checking off all the concerns that people who are viewing your house are actively looking out for.
Disclose any issues
Consider what you need to disclose to potential buyers. It's crucial to remember your obligations as a seller(external link). Whether you sell with an agent or privately, you must disclose any known issues with the property or information that could be relevant to a buyer.
Agents must ask you as the seller whether there are any hidden or underlying problems with your property. Is there a gang house next door? Are there any signs of weathertightness issues? Has the property been damaged by a natural disaster(external link)? Do you have the necessary consents and compliance documents for any work that was done? If you're not sure what to disclose, talk to your lawyer.
The best rule of thumb is to imagine yourself in the shoes of a potential buyer and think about how you would feel if you discovered the seller had not been entirely truthful. If that's not enough motivation, consider that a buyer may have the right to cancel the sale(external link) or renegotiate a reduced price if you have misrepresented anything to them. They may even be able to take you to court and claim compensation.
What happens next?
Selling a house can be stressful, but it doesn't have to put you off from selling altogether. Be thoughtful about your decision making and seek advice from the experts for best results. The great thing is you have already taken steps in the right direction to begin preparing yourself for success.
When you're ready, check out some of the next steps(external link) that will help you on your way to selling your house.
Tap/click a star to give a rating: