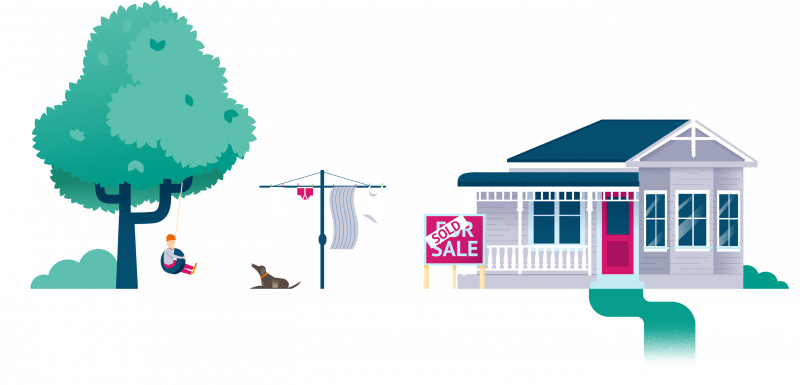 When you've lived in a property for a while it can be hard to be rational about its worth when you come to sell it. How can you put a price on the place where you've built so many memories with family and friends? Will someone else recognise the hours you spent sanding back the windows or digging out the agapanthus in the garden? Unfortunately, potential buyers may see things differently.
Rateable value (RV)
There are several methods you can use to gauge the worth of your property. Remember that the rateable value or RV (formerly known as the government valuation, or GV) of your property doesn't really provide any clues. These valuations are done by the local council to work out what share of rates a household should pay. They are only done every three years and may not take into account work that's been done to improve the property but did not require consent from the council. Increasingly, properties that include an RV figure in the advertising will come with a disclaimer that it is not indicative of current market value.
Online valuations
These days you can gather a lot of information for free online. Trade Me's Property Insights(external link) has information on more than 1.5 million homes, including rateable value data, previous sale prices, when the property was built and what size it is. The site also provides an estimated value range, based on a melting pot of data from sales of comparable properties, listing details and user activity. Homes.co.nz(external link) operates similarly. Its estimate service is built on a complex set of valuation models, using around 30 million pieces of data bought from councils nationwide, plus sales values and a wide set of property features. OneRoof(external link) also provides valuations. These sites recognise there are a number of factors at play, so they offer an estimated value range that can be quite broad.
While these sites are useful, they don't show the full picture and should only be used as the starting point in determining value. They can't take the condition of your property into account and they may not recognise any improvements you might have made (though homes.co.nz does allow owners to 'claim' their property and edit information about it).
Let's say you own a large property in an area where there have been some big-ticket sales in the last year. Your property might have some serious structural issues and be in generally poor condition, yet the algorithms may claim that it is worth a lot more than any sensible buyer would pay for it because other houses in the neighbourhood have sold for high prices. The impact of this is two-fold. Firstly, the seller could anticipate a big pay-day that may never arrive; and secondly, some buyers may be put off making an offer because they think it's out of range.
An appraisal from an agent
When you start working with a real estate agent to sell your property they must supply you with a current market appraisal or CMA. This is based on similar information to the online versions, but it also comes with the agent's real-time, real-life knowledge of the area, what similar properties have sold for and the condition and particular characteristics of your own property (such as whether it has been repainted recently or if it's in a state of disrepair). The agent will have had the chance to walk through your property and identify its unique selling propositions, such as good sun, proximity to desirable schools and other features that buyers like. It's important to note that you may get varying CMA ranges from different real estate agents as they may each take a divergent perspective on your property that you will then need to consider.
Registered valuers
Your other option is to pay a registered valuer to provide you with an independent valuation. This service comes at a cost (the price will vary, depending on the level of detail), but it will be more accurate. The Property Institute(external link), which represents valuers, says a registered valuation can help sellers be a little more clinical about their property's worth.
Even with all the information you can gather, the true indication of your property's value is what a willing buyer will pay for it at the given time that it's on the market. A valuation, a price range or a figure reached by an algorithm is not cash in the bank.
Other topics you may be interested in
Tap/click a star to give a rating: