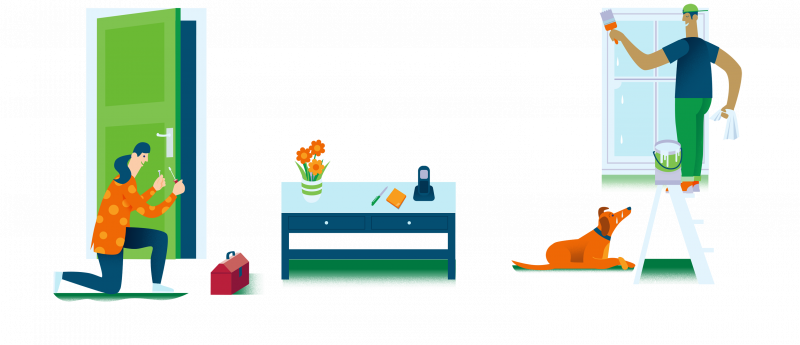 More and more New Zealand homes are being sold 'as is, where is' after the Canterbury and Kaikōura earthquakes. These properties are often listed at a lower price and can be tempting for first-home buyers with DIY dreams. We take a look at the risks you may face as a buyer and the steps you can take to protect yourself.
What does 'as is, where is' mean?
Marketing a property 'as is, where is' can be a way to alert potential buyers to the current state of the property. 'As is, where is' properties may have:
suffered substantial damage — commonly in a high natural disaster area or fires — and been written off by the insurers
been approved for repair — but no repairs have been carried out
not had insurance at the time of a natural event
weathertightness issues
unconsented alterations.
While 'as is, where is' properties in New Zealand have generally suffered damage through natural events, they can also be listed 'as is, where is' because of owner neglect, an estate sale, or a mortgagee sale.
What could this mean for you as a buyer?
If you're interested in buying an 'as is, where is' property, the most important things you can do are take extra care with your and make sure that you contact insurers to establish whether you can insure the property before making an offer.
Before signing a sale and purchase agreement, seek independent legal advice and clarification from your insurance provider.
Your bank or lender will want proof that you have arranged property insurance before settlement, even if you have conditional pre-approval with your finances.
EQC's website has a lot of information about the Canterbury and Kaikōura earthquakes and how to find out if a property you're considering buying has had an EQC claim on it(external link).
Different insurance scenarios for 'as is, where is' properties damaged in a natural disaster
Suffered substantial damage and has been written off by the insurers
These properties have damage so severe that insurers consider the cost of repairing the property to be uneconomical.
The original homeowners will usually receive a cash settlement to put towards the cost of demolition and building a new house.
If you are considering buying an 'as is, where is' property that has been written off, you need to think about whether you are prepared to buy a property that cannot be insured. It's wise to get a geotechnical report(external link) done to find out whether rebuilding a new house on the land is possible.
It's a good idea to keep in mind that it may be difficult to insure a replacement house on the same piece of land if there has been no insurance for a length of time. Talking to insurance companies or an independent insurance broker will give you an idea of your options.
Been approved for repair, but no repairs have been carried out
This means that the insurers have decided that the property can be repaired. It's likely that a cash payment was made to the owner to settle the insurance claim, but they have not used it to make the repairs.
Building costs often increase over time, so you'll want to make sure that you fully understand the cost of repair when making an offer on an 'as is, where is' property. Engaging experts is essential. Paying that bit extra to get a qualified building inspection and/or engineering report done will give you a clear picture of the property — remember that this is a visual inspection and the building inspector or engineer will not be able to cut holes in walls or carry out other invasive testing.
No insurance at the time of the natural event
The cost of repairing this type of property will fall on the owner. This may be reflected in the sale price.
It's sensible to ask the real estate agent for any proof of repair so that you can understand what work may have been carried out. It would also be wise to work with an independent insurance broker to explore the best insurance options for you. Your first port of call may be contacting your current insurance company. Having an existing relationship with an insurer means that you have already been assessed as a good risk.
Insuring an 'as is, where is' property
Ask the real estate agent who the property is insured with and whether any claims for damage have been made with EQC and the private insurer. You should also ask the real estate agent if there are any claim numbers available. And, ask the real estate agent, EQC(external link) and the private insurer lots of questions to get a full picture of what 'as is, where is' actually means for this property. This will let you know if any insurance claims exist. Make sure that as the buyer any EQC or private insurance claims are assigned to you.
Where the property has been sold by mortgagee sale, it is unlikely the mortgagee will have insurance on the property before settlement. You may wish to talk to an insurance broker about options for insuring the property before settlement.
Taking extra care to do your homework is especially important with 'as is, where is' properties. Not spending the time and money to get a full picture of the property you are purchasing can be very expensive and stressful.
Settling a deed of assignment
Transferring an insurance claim to a new buyer is called 'assignment'. A Deed of Assignment is the most common document, and your lawyer or conveyancer can help with this. Transferring the claim may allow you to take over the rights to the claim (ie: the right to any insurance payout).
What if damage has been missed or there's been a failed repair?
Talk to your lawyer or conveyancer if you discover that damage to the property is missing from the insurance claim, or if there's been a failed repair. They will be able to help you with a request to review the original claims.
You can ask for a review of an EQC cash settlement(external link) if the original settlement did not meet the reasonable costs of repairs.
What if the property had a private insurance claim?
With private insurance cover, a new owner may not be entitled to the same benefits as the previous owner. This is because the policy is held by the individual, not the property.
Cost of repairs
While the cost of an 'as is, where is' property is often lower to factor in the repairs needed, you have no buffer if something goes wrong. It is always wise to set aside money to cover extra due diligence and to include a decent contingency amount in your repair budget.
You can request a review(external link) of an EQC cash settlement if the original settlement was not enough to cover the reasonable costs of EQC's repair strategy.
Some things to think about before buying an 'as is, where is' property
Has a building inspection or engineer's report been carried out?
Look especially at high-risk areas:

Chimneys, foundations and retaining walls
Houses on slopes
Properties with multiple types of foundations
Houses with irregular design shapes or split levels
Unreinforced concrete block walls
Leaking or cracking
It's important to think through the reasons why you want to purchase an 'as is, where is' property. Make sure you set aside time and money to do your due diligence and set up a strong support team to help you weigh up whether this is a good option for you.
Tap/click a star to give a rating: