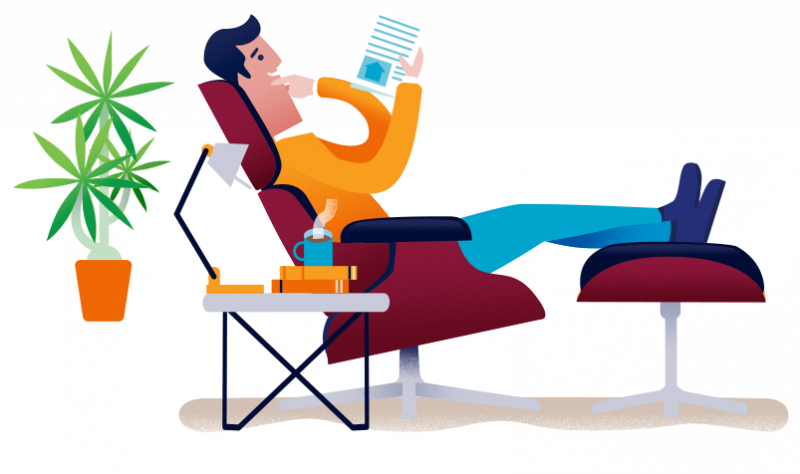 There's no getting around it – buying a home is heavy in paperwork! You're going to have to jump through a few hoops before you receive the keys to your piece of paradise.

It's good to have at least a basic understanding of the documentation. However, in real estate, the consequences can be far-reaching if things go wrong. We strongly recommend you seek legal advice before signing anything, even if you are dealing with a trained and licensed real estate agent.

Here's a checklist of the documentation that is likely to come your way when buying a house
1. Structural/building integrity reports
Property inspection report
Buying a house is a massive purchase – in most cases the largest you'll ever make. It stands to reason you want to make sure it's solid, right? Or at least know what needs fixing!
It is best practice to appoint an accredited property inspector to take a good look around. You should expect to receive a comprehensive building report that meets the building inspection standard NZS 4306:2005.
Moisture reports
Dampness can be an issue in many houses. Often you can detect this through a musty smell. If you suspect there's a problem you can seek a moisture report to satisfy any doubts about the cladding or moisture issues. The Building Officials Institute of NZ(external link) has qualified surveyors trained specifically to inspect building cladding and moisture in a property.
Engineer's report
You may also be concerned about the stability of the land the property is on. Consider getting an engineer's report for certain types of properties, for example, a property on a clifftop section.
2. Official documents about the property
Title search
Every property requires a title search. This can be done by your lawyer or conveyancer or you can do it yourself (however, we strongly recommend you ask your lawyer or conveyancer to check the title before placing an offer on a property).
A title search gives you all the records about the property that are held by Land Information New Zealand(external link) (LINZ). This will show information such as the legal owner of the property (proprietor), the type of title (estate) and any rights and restrictions against the property title, which are called interests.
LIM
A Land Information Memorandum (LIM)(external link) is a report prepared by the local council at your request. It tells you about the property so you can understand any risks. For instance, you need to ensure that any renovations, extensions or major repairs have a Code of Compliance. Your lawyer or conveyancer can help you get a LIM (and they can help you understand its contents) or you can get it yourself from the local council.
Some sellers will provide you with a LIM report they have commissioned themselves to help speed up the process. If a real estate agent or seller gives you a LIM for the property, check carefully when it was prepared. If the LIM is dated a couple of weeks ago, it's safe to assume it's reasonably up to date. If it's dated a year ago, it's a good idea to make further enquiries.
Valuation
Many banks now require an independent property valuation before they will commit to lending you money. Registered valuers are listed on the Property Institute of New Zealand website(external link). A registered valuer has met the standards and requirements of the Valuers Registration Board and has a current practising certificate.
EQC claim information
If you're interested in a property and believe there has been a previous claim lodged on the property you can now request this information directly from EQC(external link).
We recommend you request this information from the listing agent and the vendor before contacting EQC as they may already have this information ready. To request claim information directly from EQC, you can use EQC's Official Information Act (OIA) request form(external link) which is used in accordance with the Privacy Act to obtain the history of a claim with EQC.
3. Apartment/townhouse specific documentation
Buying an apartment or townhouse comes with additional documentation that you need to be aware of.
Body corporate rules
As the owner of a unit title property (i.e. an apartment, unit or townhouse), you automatically become a member of the body corporate. This involves all the unit owners acting as a group. You and your fellow members pay annual fees to the body corporate and it, in turn, looks after the management and maintenance of the property. The body corporate arranges things like rubbish collection and gardening or cleaning of common spaces.
Make sure the body corporate rules are in accordance with the Unit Titles Act 2010(external link). Also, check that the rules fit with what you are looking for in a property. For example, your beloved moggy won't be allowed on the property if there's a 'no pets' rule.
Body corporate meeting minutes
Get at least the last 12 months' worth of body corporate meeting minutes if you can, to get a sense of any issues that have been discussed in the past.
Long term maintenance plan (LTMP)
All complexes need to have an LTMP(external link), that each unit owner will have to contribute to. Make sure you know what future maintenance is planned. It's helpful to know how many of the units are owner-occupied and how many are owned by landlords. Landlords tend to want to keep their costs low, while owner-occupiers may want to keep the building as well-maintained as possible.
Pre-contract disclosure statement
A seller selling a property on a unit title must provide a pre-contract disclosure statement(external link) to prospective buyers before they sign a sale and purchase agreement. This includes information on the cost of body corporate levy and how often it has to be paid, the maintenance work planned in the next 12 months, the funds held by the body corporate and whether the unit or common property is or has been the subject of a weathertightness home claim.
Pre-settlement disclosure statement
Vendors must provide a pre-settlement disclosure statement to buyers when a sale and purchase agreement has been signed and before the transaction has settled. This disclosure must be accompanied by a certificate provided by the body corporate that certifies the information in the statement is correct.
The pre-disclosure statement gives the buyer a summary of the current fees and charges relating to the unit, whether there are any proceedings pending against the body corporate and whether there have been any changes to the body corporate operational rules.
4. Purchase documentation
Loan and mortgage documents
Before settlement, you will need to complete all loan and mortgage documents.
Your financial institution will require correctly signed and witnessed documents, along with proof that the property will be insured from settlement day. These documents can be complex so it's best to talk them through with your legal advisor.
Sale and Purchase Agreement
A sale and purchase agreement(external link) is a legally binding contract between you and the seller. It sets out all the details, terms and conditions of the sale. This includes things such as the price, any chattels being sold with the property, whether the buyer needs to sell another property first and the settlement date.
To obtain a sale and purchase agreement contact the agent for the property or contact your lawyer if it's a private sale.
Insurance paperwork
A bank or reputable lender will usually want proof that you've arranged property insurance(external link) before settlement day. Talk to different insurance companies and get quotes to make sure you get the best deal.
Settlement day documentation
So, you got through all the above paperwork and settlement day(external link) has finally arrived… phew! You're nearly there – just a few more documents to go.
Settlement statement – Your lawyer will check that the rates and any other utilities have been paid by the seller and are up to date. They will then send a settlement statement to your lender, showing the amount required to 'settle' the transaction. Your lender will then arrange with your lawyer to draw down your loan and transfer the money to the seller's account on the settlement/possession date.
New title documentation – The seller's lawyer or conveyancer will release documents to your legal advisor who will arrange for the transfer of ownership.
Well done, you made it! Now kick back and start planning your housewarming party, knowing all that pesky paperwork is behind you.
Tap/click a star to give a rating: