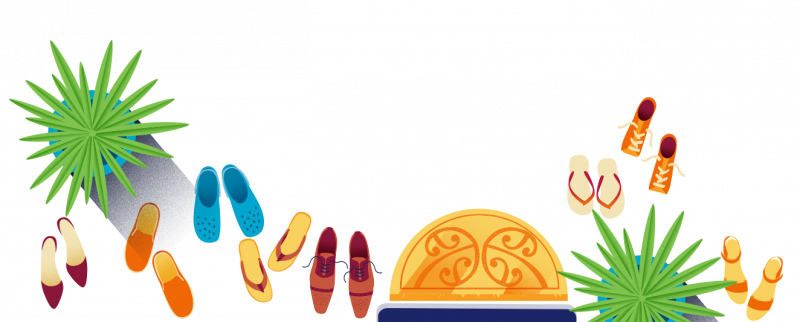 Going to open homes can be a fun part of the home buying process. It's like being in your own, real-life version of Location, Location, Location – you get to wander around someone else's house and imagine owning it. However, it's also easy to get distracted by day dreams about what it would be like to live there instead of checking the important things.
Here's some important stuff to know about viewing an open home when you're buying a house in New Zealand.
Make a list, check it twice
When you're buying a house in New Zealand it's a smart idea to begin the process by making a list of all the things you need in a property. Remember needs and wants can be very different – you might need three bedrooms, drive-on access, extra storage space and a fenced section for your pets, but you might want an in-ground swimming pool and a sea view. You can't always get what you want, as the Rolling Stones famously said, but if you try sometimes you might just get what you need.
Having a solid list of your must-haves will help keep you on the right track and less likely to be distracted by fancy features that you don't necessarily need, like a spa pool or a carpeted double garage.
It's a good idea to take your list with you when you visit an open home (or at least tick it off afterwards) so you can assess whether the property is a contender.
Don't be shy about asking other questions about the property(external link) at an open home – if it's really busy or you're pushed for time, take a note of the real estate agent's details and contact them afterwards.
Red flags to look out for
Open homes can often be 'dressed' by sellers who want to present their properties in the best possible light. They're hoping you'll be so entranced by the mid-century modern furniture or the beautifully dressed beds piled high with throw pillows that you won't spot the hints of black mould in the bathroom or broken guttering outside.
That means it's a good idea to be on your guard. Once you've been to a few open homes you'll have a better idea of what to look out for. One that is often (but not always) obvious is smell. Does it smell musty anywhere in the house? This could indicate problems with damp, leaks or floods. Be aware too that strong pet smells may require you to replace the carpet.
Where is the sun in relation to the property? Open homes are often scheduled when a house receives the most direct sunlight – use the compass on your phone to work out the house's position. Remember that you can change colour schemes and carpets, but you can't change the movement of the sun.
Are the floors level? Take a marble with you and drop it on the floor – if it rolls, this could indicate problems with the foundations.
Are there retaining walls on the property? Check them over for cracks, sagging or bulges.
If you're worried about forgetting something, take this useful open home checklist [PDF, 236 KB] with you.
Everybody needs good neighbours
While an open home is a good chance to check out a property, don't forget to spend some time scouting out the general neighbourhood. Think carefully about what sort of amenities you need, like access to public transport and shops. If school zones are important, check to see whether the property fits within the area you need.
If you like what you see at the open home, arrange to visit the neighbourhood at different times of the day and in the weekends. This will give you an idea of what sort of people live there and what the traffic flow is like.
It can also be a good idea to talk to other people who live in the area. Most people are happy to share the highs and lows of their neighbourhood, which will give you a broader view of what it's really like to live there.
What to do if you like what you see at an open home
Let's imagine that you've made it through the open home. You've opened all the cupboards, you've checked out the roof, you've given the neighbourhood the once over and you've even turned on the shower to check the water pressure. Job done, right?
Well, not quite. It's a good idea to think of going to an open home in a similar way to giving a car the once-over in a car yard. It might look great but you won't really know what it's like until you've taken it for a spin and got a mechanic to confirm that it's roadworthy.
If you like what you see at an open home, make an appointment with the real estate agent to view it again privately. Open homes are often busy and it's easy to overlook things.
If you're still keen and want to make an offer, it's important to find out as much as possible about the property first(external link).
Getting professional help when you're buying a house in New Zealand is a smart move. We recommend that you get a lawyer to check through all the official documents about the property, such as the certificate of title and the Land Information Memorandum (LIM). Be aware too that the property file at the council may contain a lot of relevant information that isn't on the LIM such as a site plan and the original plans of the house.
If the property is part of a body corporate (such as an apartment or townhouse) the owner must provide you with a pre-contract disclosure statement. It's also a good idea to ask for additional information such as the minutes from the last 12 months of body corporate meetings.
When it comes to checking out the physical structure of the property, we recommend hiring an accredited property inspector who can identify any potential hazards or problematic building materials. If the home you want to buy was built between the late 1980s and mid-2000s, there is a risk that it may be a leaky building. The property inspector can advise you on this. They can prepare an inspection report before you make an offer or as a condition of your offer.
While you can get an estimate of how much a property is worth from some free online services, paying a registered valuer to assess a property can be very helpful. Some financial institutions require registered valuations as part of their lending agreements.
If you don't like what you see at an open home when you're trying to buy a house in New Zealand, don't despair. Consider each open home a learning experience that will bring you closer to your goal.
Tap/click a star to give a rating: