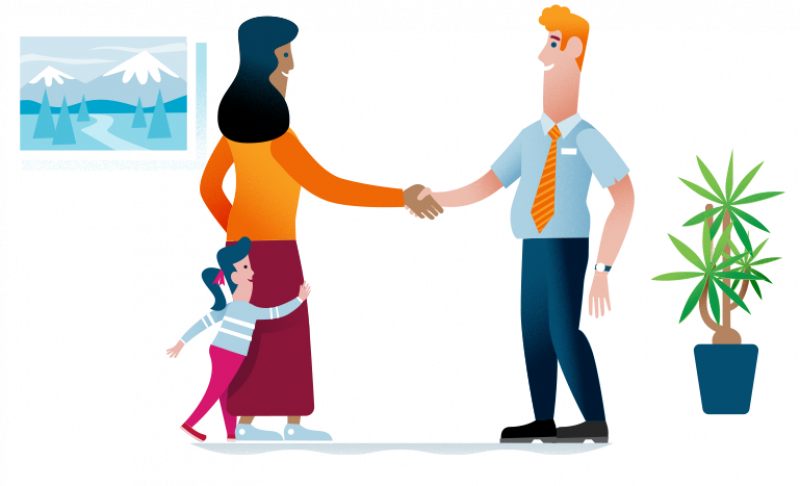 Your home may be your biggest asset, so it makes sense that you'd want to explore whether using an agent or going privately is right for you when it comes to selling your property. Knowing exactly what an agent has to do to get a licence and what is involved in working with a real estate agent may help you make a decision.
They have to be licensed
To be a real estate agent, you must complete qualifications, be assessed as fit and proper to hold a licence and complete annual professional development requirements set by the Real Estate Authority(external link) (REA).
There are different kinds of licenses
There are three types of real estate licence: a salesperson, branch manager and agent(external link).
An agent's licence allows an individual to carry out real estate agency work on their own or in a partnership. This level of licence is also required in order to be the lead agent, often referred to as the licence holder, for an agency.
Salespeople and branch managers must work for, or on behalf, of someone that holds an agent's licence. Salespeople are also required to be supervised by an agent or branch manager. Each level of licence allows an individual to auction property without holding an auctioneer's licence.
This video explains what an agent's obligations are:
How to choose an agent
When choosing a real estate agent, it can be useful to get recommendations from friends, family and work colleagues. You can also search for online reviews and testimonials.
REA has a public register(external link) where you can look up an agent, check that they hold a current licence and find out if they have had any complaints upheld against them. You should never use an unlicensed person to sell your home as they will be breaking the law and you will have no recourse if things go wrong.
What is an agency agreement?
When you decide to work with a particular agent or agency, you will be asked to sign an agency agreement. This is a legal document that sets out what the sale process will be and how much commission the agency will receive if the property sells.
It also covers matters such as the agreement's timeframe, how the property will be marketed and what the costs of that will be.
What am I signing up for?
You can list your property with one agency under a sole agency agreement, or two or more under a general agency agreement. As the name suggests, a sole agency agreement gives one agent or agency the exclusive right to market and arrange the sale of your property.
If you sign a sole agency agreement, you should not sign an agreement with any other agent or agency, or you may have to pay all the agencies a commission regardless of which one arranged the sale. Whatever you decide, it's important to remember that many of the conditions in agency agreements are negotiable. It's always advisable to get legal advice to help you understand what the terms of an agreement mean and to ensure you get what you want before you sign it.
Will an agent give me a valuation?
Before you sign an agency agreement, the agent must give you a written appraisal. This is their estimate of the property's sale price, which must realistically reflect current market conditions and refer to comparable sales data. The agent should also explain the different options for selling your property, whether by tender, auction or at an advertised price. They must explain how your property will be marketed and make it clear what advertising they provide as part of their service and what you will need to pay extra for.
How do I pay an agent?
Agents are most commonly paid commission. Some firms offer fixed fees, but other commission arrangements are negotiable. Before you sign an agency agreement, the agent must explain to you how the commission will be calculated, the conditions under which it must be paid, when it must be paid and the estimated total amount you will pay based on the estimated sale price of your property.
The commission is usually made up of a set amount, plus a percentage of the selling price and GST. An administration fee is also usually included. You can often negotiate commission fees with the agent, but make sure any changes are reflected in the agency agreement before you sign it.
Why all the questions?
To help protect New Zealand's reputation and economy from money laundering activity and financing terrorism activity, real estate agents must take you through a vetting process that will include confirming your identity, including your date of birth, and your address details before you sign an agency agreement with them.
Are agents obliged to treat sellers respectfully?
Agents are bound by a code of conduct(external link) under The Real Estate Agents Act 2008. They are not allowed to put any undue or unfair pressure on a seller, and they must keep you updated about anything relevant to the sale of your property. If they, or someone they know, are interested in buying your property, this conflict of interest must be declared. If this happens, ask another agent to represent you. It's important that you have someone independent working to sell your property, especially when you're paying them to do it.
Tap/click a star to give a rating: