Back to the blog index
Buying your first home? Commonly asked questions about the transaction process (Part 2)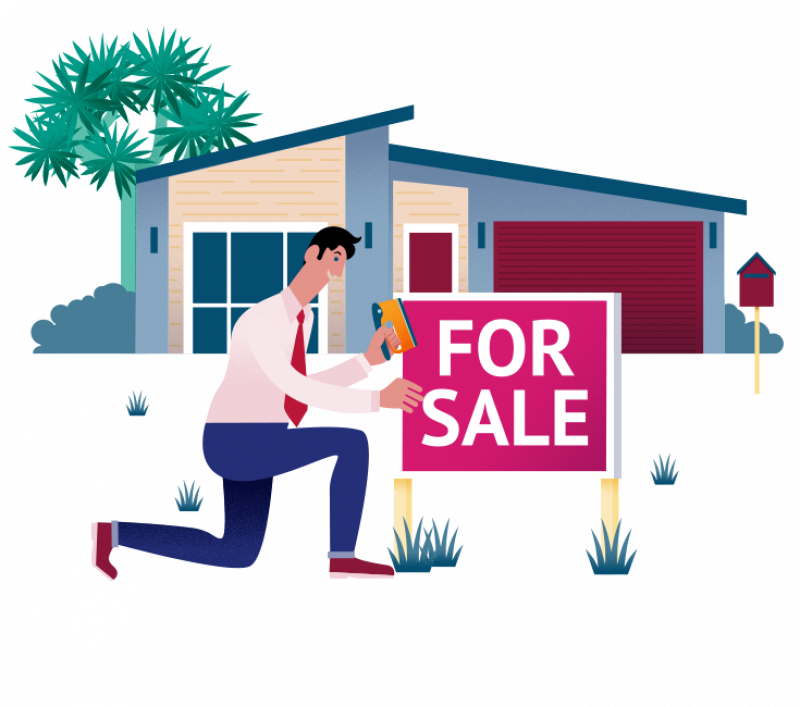 Here's where it gets exciting… signing on the dotted line! We help you navigate the ins and outs of sale and purchase agreements – and tell you what to expect when you finally get to settlement day. Here are a few of the questions we often hear.
Common questions about Property Sale and Purchase Agreements
What is a sale and purchase agreement for property?
A sale and purchase agreement is a legally binding contract between you and the seller. It sets out all the details, terms and conditions of the sale. This includes things such as the price, any chattels being sold with the property, whether the buyer needs to sell another property first and the settlement date. You should fully understand all aspects of the agreement before you sign, so it's important to get advice from your lawyer or conveyancer at this point.
Watch our video Understanding the Sale and Purchase Agreement to learn more.
What conditions can you include in the sale and purchase agreement?
You can include any conditions you like in the sale and purchase agreement but remember it's up to the seller whether they'll accept your conditions or not.
Common conditions include:
Title search
Finance
Valuation report
Land information memorandum (LIM)
Satisfactory property inspection report
Engineer's or surveyor's report
Sale of another home.
What happens after you sign a sales and purchase agreement?
Signing the sale and purchase agreement commits you to buy the property, but it's not the end of the purchase process. Both parties work through any conditions until the agreement is unconditional. You'll then need to:
Pay the deposit when you sign the agreement or when the agreement becomes unconditional – depending on what your agreement says.
Pay the remaining amount on the day of settlement, usually through your lawyer or conveyancer.
Does a home buyer need a lawyer?
We recommend finding a lawyer or conveyancer to step you through the home buying process. They are a source of knowledge and advice, who can offer valuable support.
We often hear from lawyers that a client has phoned at the 11th hour, having already signed a sale and purchase agreement, and just needs someone to push the paperwork through. While some may choose to go down this road, we highly recommend you take full advantage of the years of industry experience your lawyer or conveyancer has to offer and ask questions that will help you make informed decisions when it comes to buying a home.
What do property lawyers do?
You can talk to your lawyer or conveyancer about your individual circumstances and what clauses should be included in your sale and purchase agreement, in order to best protect yourself. Talking about this early on will save you time when it comes to making an offer and the real estate agent or salesperson asks what clauses you'd like in the agreement. They can check over your sale and purchase agreement, explain the ins and outs of the LIM report, as well as finalise the contract paperwork.
Your lawyer or conveyancer will:
give you advice on your Sale and Purchase agreement before you sign it
give you advice regarding issues identified within the LIM report and certificate of title
liaise between yourself and the vendor's solicitor in the event of any issues
confirm with the vendor's solicitor when conditions have been met
review mortgage documents
witness signing of mortgage documents
manage payment of funds on settlement day.
How do I find a property lawyer or conveyancer?
If you're not sure where to find a lawyer, you can ask family or friends for recommendations or check out www.propertylawyers.org.nz(external link) (part of the New Zealand Law Society) to find one in your area. The New Zealand Society of Conveyancers(external link) provides contact details for its membership conveyancing firms.
How much are the legal fees?
Different lawyers and conveyancers have different fee structures, and pricing can vary dramatically. Shop around and ask those around you for recommendations. It pays to have a clear understanding of what they will charge you from the get-go, and when it will be due.
Common questions about property settlement
What is a pre-settlement property inspection?
You should arrange to inspect the property at least two working days before the settlement date. This is known as the pre-settlement property inspection. This is the chance for you to check the property and chattels are in the same condition they were in when you signed the agreement to buy the property and that the seller has met any conditions listed in the agreement.
Do I need home insurance before settlement?
Full insurance is usually a condition of the property's finance. You must arrange insurance before settlement day, so the property is insured from the day you take possession. Your lawyer or conveyancer will ask for proof that the property will be insured.
What happens on settlement day?
A number of things need to happen on settlement day. Your lawyer or conveyancer will manage most of them for you:
Your lawyer or conveyancer will pay for the property (using the authority you signed a few days earlier). The money is paid to the seller via the seller's lawyer or conveyancer who gives your lawyer or conveyancer a receipt for payment.
When this is completed, your lawyer or conveyancer will tell you the sale has gone through and you can collect the keys from the seller's lawyer or conveyancer or from the agent.
The seller's lawyer or conveyancer will release documents to your lawyer or conveyancer who will arrange for the transfer of ownership and to have your details and the details of your bank or lending company recorded on the record of title.
How long does settlement take?
Most settlements run smoothly, and the buyer has a new property by the end of the day. However, things can go wrong. Your lawyer or conveyancer is the first person to call if there is an issue. They will be able to answer your questions and guide you. They can also help you negotiate with the seller to remedy any issues such as a newly broken window or missing keys. Your lawyer or conveyancer will work with the seller's lawyer or conveyancer to try to reach a satisfactory solution.
Delays to the process or a seller who is not organised and hasn't finished moving out can be stressful, especially if you are moving in on settlement day. We recommend planning to move into your new home at least a day later if that's possible.
As you can see, there's much to think about before you can move into your new home. However, by being in the know you'll have a better chance of nailing that sale and purchase agreement and skipping your way to settlement in no time. To gain more insight into the purchasing process, take a good look at our information for first home buyers. If you still have questions after that feel free to email or call us.
Tap/click a star to give a rating: