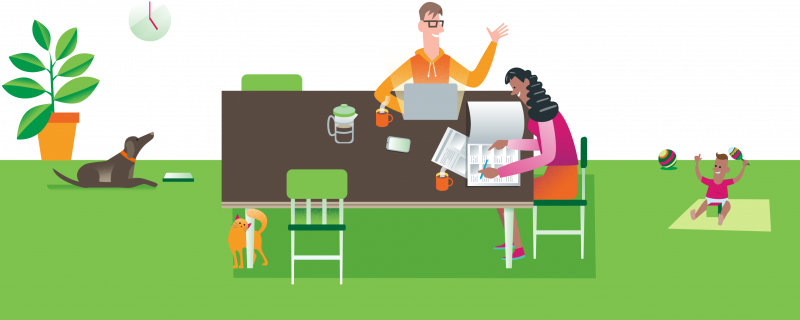 Figuring out your finances before you start the first home hunt? As a first home buyer, there's a lot more to think about than just the purchase price.
As soon as you start house hunting the dollar signs start clocking up. From legal fees and due diligence reports to the ongoing homeownership costs of maintenance, rates and insurance, it's best to go into it open-eyed. That way you'll be more realistic about what you can afford.
Our infographic on the costs of owning a home(external link) is a great starting point. In addition, here are some handy hints to help you in the budgeting process.
House hunting expenses
Buying a property is expensive, and it can cost even more if something goes wrong. That's why it's important to have a team of professionals to support you. Here are a few things that will cost money during the house hunting stage.
Lawyer or conveyancer
Buying can be a fast-moving process. We recommend you find a lawyer or conveyancer early on to help you through the buying process. It pays to shop around and get quotes as fees can vary dramatically.
Building inspection report
Our Property Checker tool provides an initial steer on what to look out for when you're checking out a specific property. However, if you are really serious about a place, we recommend you hire an accredited property inspector to do a pre-purchase inspection. This will highlight any issues with the home.
Council LIM report
It pays to learn all you can(external link) about a property you're keen on. A Land Information Memorandum (LIM)(external link) is a report prepared by the local council at your request. It provides a summary of the current property information held by the different departments at council on the day the LIM was produced. Contact your local Council to find out how much they charge.
Mortgage repayments
It's no surprise that mortgage repayments are usually the highest cost of home ownership. Be sure to shop around for a mortgage(external link). Think carefully about what type of mortgage will suit you best – and whether you can afford it.
Work out how much a mortgage will cost you
We provide a mortgage calculator to help you work out how much your mortgage would cost. You just need to enter your loan amount, interest rate and loan term. Our blog on how to calculate a mortgage also provides tips for working out how much you can borrow, the main types of mortgages, types of interest rates and more.
Shop around for the best mortgage rate
Interest.co.nz(external link) compares the interest rates of all the banks and other institutions that offer mortgages in New Zealand. This is a useful starting point for working out who to approach.
Factor in changing interest rates
While interest rates have remained low over the last few years, it won't stay that way forever. Consider the worst-case scenario as well as current interest rates when using the mortgage calculator, to ensure you'll still be able to afford your mortgage repayments, even if interest rates rise.
Renovations: Extreme home makeover dreams vs reality
Maybe you are planning on buying a 'doer-upper' with 'good bones'. Will you be able to afford the transformation you're dreaming of? Here are a few tips for getting the most out of your budget.
Get realistic with your renovations
No doubt there's plenty you'd love to do but unless you're rolling in money you might not be able to do it all at once. Work out what's realistic. You'll need to set a budget for your planned renovations, plus contingency money for any unexpected issues that might be uncovered during the renovation, such as rotten wood or dodgy wiring.
Prioritise your home improvements
It may seem boring but you should always prioritise health and safety-related repairs over the more 'exciting' stuff, such as décor. Suggested priorities include:
fixing the roof – making sure there are no leaks
electrics and heating – ensuring the wiring is sound and that your home is well-insulated and heated
improving your kitchen or bathroom – particularly if usability is an issue. However, if the renovation is more cosmetic then consider your budget and try to avoid over-capitalising. If you're planning to live in your new home for many years then it can be worth it. However, if you're hoping to recover the costs of your reno you might like to reconsider that luxury tiled shower!
Once you've got health and safety sorted, then you can start thinking about the cosmetic touches.
Think about increasing home value
Adding value to your home isn't the be all and end all of renovation but it'll certainly make your bank balance happy when it comes time to sell.
Some of the most popular projects that increase home value are:
kitchen remodelling
bathroom renovations
energy-efficient insulation
patio and deck additions
new garage doors
plumbing updates.
Projects that are unlikely to increase home value include:
pools
hot tubs
luxury showers
built-in electronics.
Get smart with your landscaping
Landscaping projects that might improve your yard and add value include:
lawn upgrades
planting
decks
patios
outdoor kitchens
retaining walls
fencing
Maintenance and repair costs
What kind of condition is your prospective house in? Are there repairs that need doing or is there upcoming maintenance that will be likely? Make a note of what work is likely to be needed to get the place up to scratch and find out likely costs. Which takes us to the next point…
Talk to the professionals
To get the best idea, consult a professional property inspector or builder about the realistic costs of renovations, repairs and ongoing maintenance.
Furnishings and fit outs
Find out what chattels will remain
Often major appliances such as dishwashers and microwave ovens and other chattels are included in the sale of a home. Make sure you know what will be left behind and whether they will need replacing any time soon.
Think about what furniture you need
If you don't have much money left over after purchasing a house it may look a little empty! Consider whether you'll need to buy any additional furniture for your new home. You can find budget furniture in second-hand stores, garage sales and on TradeMe and Marketplace. Look online for tips and tricks for fitting out a home on a budget.
Ongoing costs
There are a few ongoing expenses you need to be aware of. By being mindful of these costs upfront, you can better forecast your future house budget.
Council rates
Be sure to factor in rates when working out your budget. Rates are the single biggest ongoing bill for most homeowners. They vary according to region so check how much the rates cost in the area you're looking at on the local Council website.
Body corp fees
Every apartment comes with the additional burden of body corp fees. These help cover the upkeep of the building and its facilities, the cost of power in common areas, insurance, water, and the building manager's fees. Our blog Should I buy an apartment? provides advice on body corp fees and other things to think about when buying an apartment.
Insurance
Hope for the best but prepare for the worst. If a fire or a natural disaster happens you'll be glad you did. Insurance should be right up there on your 'to do' list when buying a home. Check out our blog on what property buyers need to know about insurance for helpful tips on getting the right kind of insurance. The Insurance Council of New Zealand (ICNZ) also has a useful guide(external link) to home and property insurance.
Maintenance
Bear in mind the costs of keeping your house in tip-top condition. There are a few big things that will need doing down the track that you'll need to budget for. For instance:
painting the outside of your house (approx. every 10 years)
painting or replacing your roof
replacing old boards on your deck or rotten weatherboards
fixing leaky pipes
repainting or wallpapering your interior
replacing carpet.
In summary, yes, there's a lot of think about, but all this talk about all the costs involved in buying and maintaining a home is not intended to put you off. Knowing what you're in for will help prevent any nasty surprises down the track. This will make for a more positive experience as a new homeowner. To read more on this topic see The Spinoff's article Rates, renovations, repairs: A guide to the hidden costs of buying your first home(external link), written in partnership with settled.govt.nz.
Tap/click a star to give a rating: