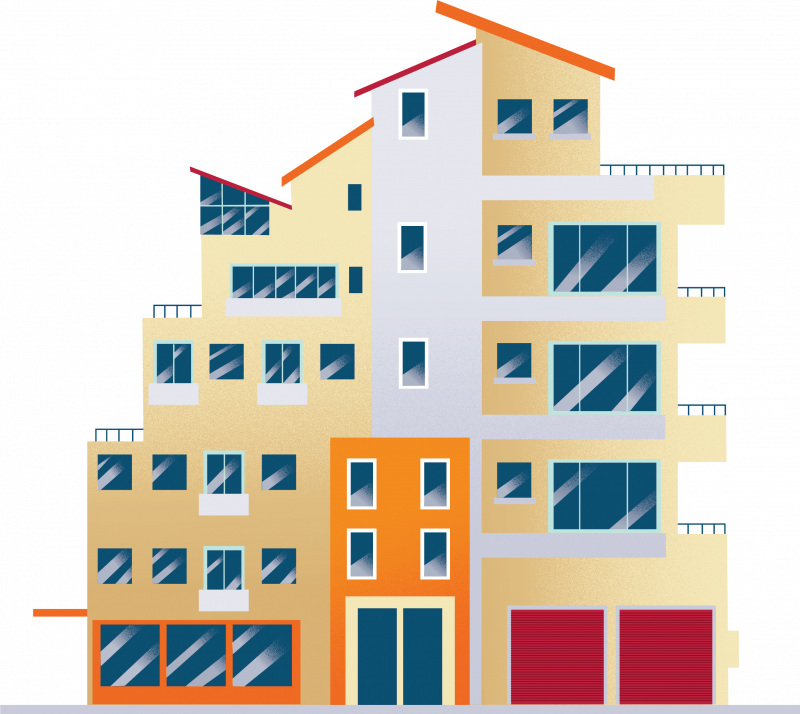 Apartments have often been looked down on as a good property option when it comes to buying a home and are sometimes thought to require buyers to compromise on their needs and wishes. While it may be true that it's hard to find one with similar features to a house, they're an option more and more Kiwis are now looking to.
With many high-end, spacious and comfortable apartments coming to the market, apartment living is a desirable prospect for many. In this blog, we examine the reasons why apartments are an attractive option for first home buyers and how to decide if buying one is the right choice for you.
6 benefits of buying an apartment
Affordability
If you're a city dweller, it's likely that buying an apartment or a townhouse(external link) will be the best way to get value for your money, as opposed to buying a stand-alone house. Research by CoreLogic this year suggests that first home buyers are seeing apartments as an economical way into the property market. In July 2020, first home buyers accounted for 15% of purchases of existing Auckland apartments and 29% of new ones.
Maintenance
Apartments bring the advantage of being relatively low maintenance. Smaller floor space and fewer rooms could bring down the time you spend cleaning and maintaining your property, while shared spaces like lifts, laundries and lobby areas are maintained by the body corporate (all the unit title owners acting as a group). Mowing lawns and painting fences will be a thing of the past!
Size
If you're a single buyer or looking for a house as a couple, an apartment can be a great option for a first home. Apartments are big enough for two people to feel like they aren't living on top of each other, and they reduce the number of tasks that are tricky for just one person to tackle, for example, maintaining an unruly garden.
Amenities
Amenities can vary between different apartment complexes, so depending on your lifestyle, buying an apartment can be a very attractive option. Some may include perks like a gym, private parking garage or communal gardens, and others go the extra mile and provide more luxurious features like swimming pools or tennis courts.
Security
Generally, apartment complexes have security doors at all of their entrances, meaning only occupants of the building have access to come and go as they please. An extra layer of security may be desirable to some, especially when living in a city.
Location
Apartments are a great option for those who like to stay close to the buzz of city life — stand-alone houses are much more likely to be found in the outer suburbs of a city. Enjoy strolling along the waterfront and calling in at your favourite café on the way home? Apartment living could be for you.
7 things to consider before buying an apartment
While apartments offer many benefits, you should consider how they differ to stand-alone houses, both to purchase and to live in.
Unit title ownership
In most cases, apartments are held in unit title ownership(external link), which means you own the apartment or unit and any 'accessory units' like garages, car parking spaces, private courtyards and storage areas that are contained in the record of title. However, not everything will necessarily be included. Car parking spaces may hold separate titles and may need to be purchased separately if you need one.
You can learn more about unit titles at the Unit Title Services website here(external link).
Body corporate membership
Becoming a unit title holder usually means you will automatically become a member of the body corporate, which consists of all the unit owners acting as a group. The body corporate handles the management and upkeep of the building and property in return for all the members paying annual fees.
These fees will likely include:
budgeted costs like insurance and management expenses
a contribution to a long-term maintenance fund (LTMF)
any services the body corporate arranges for its members such as rubbish collection and cleaning communal areas.
Body corporate costs that have not been included in the budget are also payable by the unit owners, usually by way of a special levy. We strongly recommend asking a lawyer to help you understand the body corporate rules, which set out your obligations and what you can or cannot do with your apartment.
Long-term maintenance plan
When you are looking at properties, ask the real estate agent to give you copies of the long-term maintenance plan(external link) (LTMP) and LTMF, along with copies of the body corporate meeting minutes from the past 12 months to understand the key issues and concerns.
If the plan outlines desires to upgrade the lifts or repaint the building, is there enough money to pay for it? Understanding the plans for the building may help you decide whether you want to live there or not. You should also ask about the building's contingency plan, as there may be additional costs on top of the building levies.
Insurance
When doing your homework on the property, it's worth checking:
that all the owners' levies are up to date
that the accounts are audited
whether the body corporate is involved in any proceedings against a third party
whether there are any weathertightness issues with the building.
You should also ask the real estate agent for a copy of the insurance policy and speak to your lawyer about what this means for you.
Rules and restrictions
Body corporate rules can also specify how an apartment is used and who can live in it, which may have an impact on plans you may have for the apartment. Some body corporate rules also extend to visitors to the property, such as the hours they can be on site and where they can park.
Style of living
While some apartment complexes develop into tightly knit communities, living so close to others is not for everyone. Consider the amount of soundproofing the apartment has and find out what sort of people live there. If you like to host band practice at your place on the weekends, living in a complex may not be the best choice.
If the apartment comes with a deck or balcony, you may also want to think about how exposed it is to other neighbours or apartment blocks. Privacy can be harder to maintain when living in an apartment.
Age of the building
Consider the age of the apartment block you're viewing. While newer blocks are often more modern and up to date in their design, they may be so new that they haven't yet presented potential problems. Older buildings with no track record of problems can sometimes be a more secure bet. If you're unsure, we recommend getting a property inspection report from an accredited inspector — it's worth asking for their opinion about the apartment and the whole building.
Buying an apartment as a first home is a great opportunity to get on the property ladder at a fraction of the price of a stand-alone house while not having to compromise on your location or risk your security.
Whether you decide apartment living is for you or not, buying your first property can be a confusing time. For more information on the home buying journey, download [PDF, 5.1 MB] our Buyer Journey Guide, which will help you through all the steps from researching a property through to settlement day.
Tap/click a star to give a rating: